In Jan 2020, XYO planned to pivot away from "the Matrix" in Q1 2020. We are reimbursing tokens staked on the Matrix back to XYO owners. Thank you for your support in working on this bleeding edge idea. This was a difficult decision for us to make, but one of necessity. Please note that we will revisit this dApp when the tech is in demand and able to provide more value to you, the end user. With this closure of the Matrix dApp, we have created a reimbursement tool that will allow the end user to withdraw their staked XYO.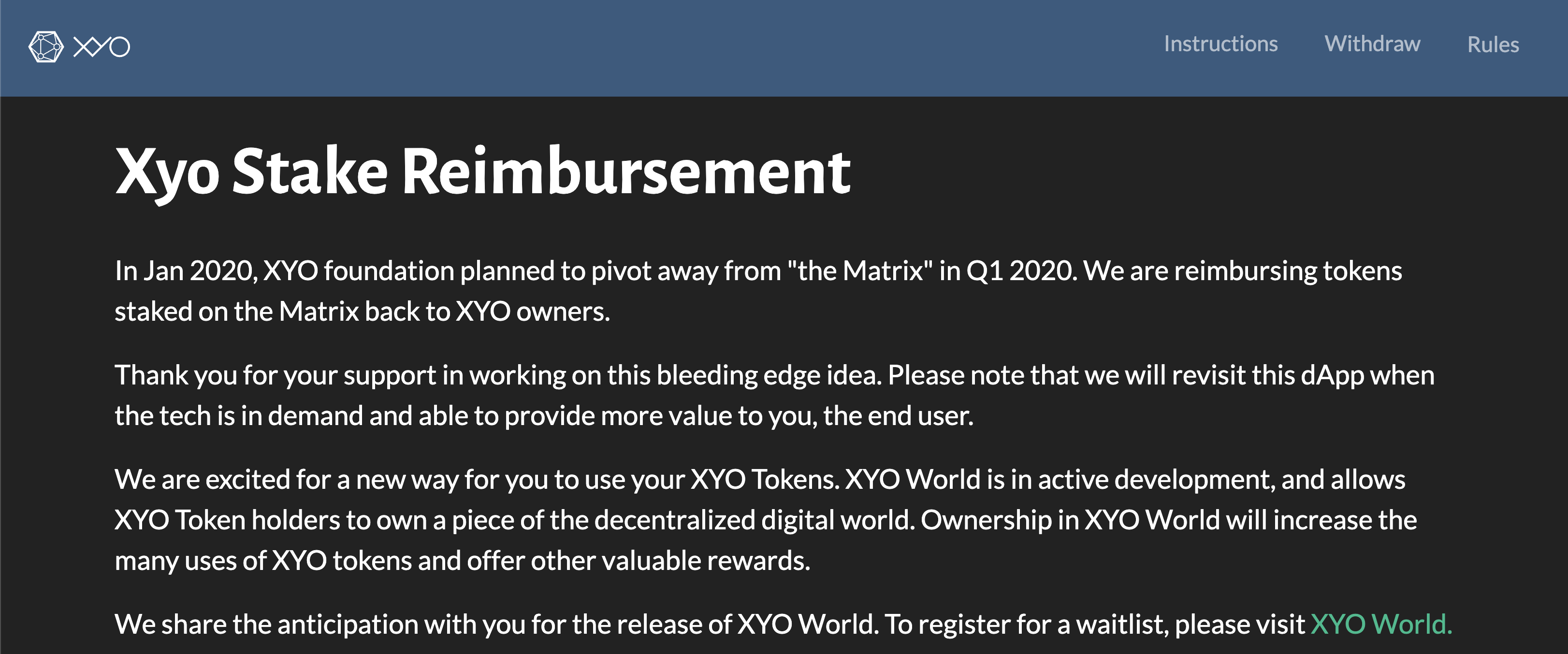 This withdraw is possible with the XYO Stake Reimbursement dApp that allows holders of staked XYO to get their tokens back.
But you might have some questions, which is where this article comes in.
---
Q: Will this allow me to withdraw unallocated stake in Bond?
A: Yes, the app will display how much XYO is staked on a node and how much is unallocated in Bond. Both amounts are reimbursable.
Q: Who pays for gas (transaction fees)?
A: The user (you) will need to pay for the gas. We don't expect it to be more than a few cents USD, basically pocket change for most users. Making the dapp work this way is both more practical from a technical standpoint and cost-effective for XYO.
A: We're very sorry to say... you can't. Staked XYO transaction history is specific to an wallet address that initially held the staked XYO, which means that the only identifying information is the wallet itself. We can't change the wallet addresses for the security of the users who are still using those wallets, and to ensure the process is efficient.
Q: How can I check if I have staked XYO?
A: The dApp allows you to enter an address tied to the token to check staked XYO and overall balance.
Q: I lost access to my wallet. Can I get it replaced?
A: XYO can't replace XYO lost due to wallet theft, loss, or other security compromise. Wallet owners must ensure their wallet's security, unfortunately XYO can't insure users' cryptocurrency.
Q: I accidentally used the wrong address and used ETH to send the transaction. Can I get reimbursed?
A: XYO can't reimburse lost gas or XYO tokens. Please be sure to use the correct wallet address associated with staked XYO.
Q: What determines how much XYO is reimbursed?
A: The XYO reimbursed is determined by Tokens that were unallocated in bond, XYO that was staked, and any remaining XYO staked to the network.
Q: What is a Web3 wallet and how do I get one?
A: A Web3 wallet is a type of cryptocurrency wallet you can use with a web browser. For desktop computer users, we recommend MetaMask. For mobile users, we recommend Trust Wallet. Both are free, and full instructions can be found on the dApp.
Q: Just to be sure, this means the Matrix is shutdown and I won't be able to stake?
A: Yes. This dApp is included with a shutdown of the Matrix. Please note that this is a decision based on the current value of staking along with the upcoming XYO World app which will bring new value to the XYO token. We are excited for this new way for you to use your XYO Tokens. XYO World is in active development, and allows XYO Token holders to own a piece of the decentralized digital world.